Upgrade
General Information
Species
Galvanic Mechamorph
Home World
Galvan B
Body
Mechanical Liquid
Powers and Abilities
Abilities
Merging with Technology
Lasers
Regeneration
Shapeshifting
Elasticity

Details
Voice Actor
Yuri Lowenthal
First Appearance
Permanent Retirement
Upgrade
is the Omnitrix's DNA sample of a Galvanic Mechamorph from Galvan B.
Appearance
Upgrade is humanoid alien with black and green skin. He has green and black lines all over him that resemble circuitry. His eye is a green circle on his head that glows when he speaks. The Omnitrix is on his eye.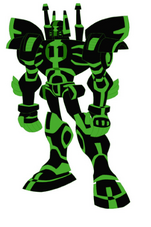 Powers and Abilities
Upgrade can merge with technology and upgrade it beyond its original design.
He can fire an optic laser beam.
He can form spikes and other constructs from plasma.
He can phase through metal and technology.
He can transform into a battle mode.
Weaknesses
Upgrade can't merge with organic life unless it has some non-organic elements in it. He is weak to electricity, acid, computer viruses, and magnetic fields.
Ad blocker interference detected!
Wikia is a free-to-use site that makes money from advertising. We have a modified experience for viewers using ad blockers

Wikia is not accessible if you've made further modifications. Remove the custom ad blocker rule(s) and the page will load as expected.